Anyone who rides an electric scooter without a driver's license in designated areas in Dubai will be required to obtain a permit from Thursday.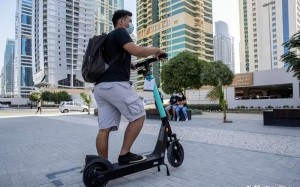 >Where can people ride?
The authorities allowed residents to use electric scooters on a 167km route in 10 districts: Sheikh Mohammed bin Rashid Boulevard, Jumeirah Lakes Towers, Dubai Internet City, Al Rigga, 2nd of December Street, The Palm Jumeirah, City Walk, Al Qusais, Al Mankhool and Al Karama.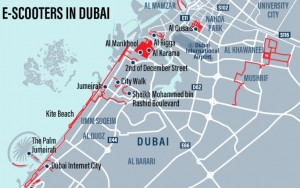 E-scooters can also be used on cycle paths across Dubai, except for those in Saih Assalam, Al Qudra and Meydan, but not on jogging or walking paths.
> Who needs a license?
Residents aged 16 and over who do not yet have a UAE or foreign driver's license and plan to ride in the 10 areas above.
>How to apply for a license?
Residents need to visit the RTA website, and driver's license holders do not need to apply for a license, but need to watch training materials online to familiarize themselves with the rules; those without a license must complete a 20-minute theory test.
> Can tourists apply for a permit?
Yes, visitors can apply. They are first asked if they have a driver's license. If they do, tourists don't need a permit, but they need to complete a simple online training and carry their passport with them when riding an electric scooter.
>Will I be fined if I ride without a license?
Yes. Anyone riding an e-scooter without a license can face a Dh200 fine, here is the full list of fines:
Not using specific routes – AED 200
Cycling on roads with a speed limit exceeding 60 km/h – AED 300
Reckless riding that poses a danger to the life of another – AED 300
Ride or park an electric scooter on a walking or jogging path – AED 200
Unauthorized use of electric scooters – AED 200
Not wearing protective gear – AED 200
Failure to comply with the speed limit imposed by the authorities – AED 100
Passenger – AED 300
Failure to comply with security requirements – AED 200
Riding a non-technical scooter – AED 300
Parking in an undesignated area or in a manner that may obstruct traffic or pose a risk – AED 200
Disregarding instructions on road signs – AED 200
Rider under the age of 12 without the supervision of an adult aged 18 and over – AED 200
Not getting off at the pedestrian crossing – AED 200
Unreported accident resulting in injury or damage – AED 300
Using the left lane and unsafe lane change – AED 200
Vehicle traveling in the wrong direction – AED 200
Obstruction of traffic – AED 300
Towing other objects with an electric scooter – AED 300
Training provider without a license from the authorities to provide group training – AED 200 (per trainee)
---
Post time: Feb-20-2023